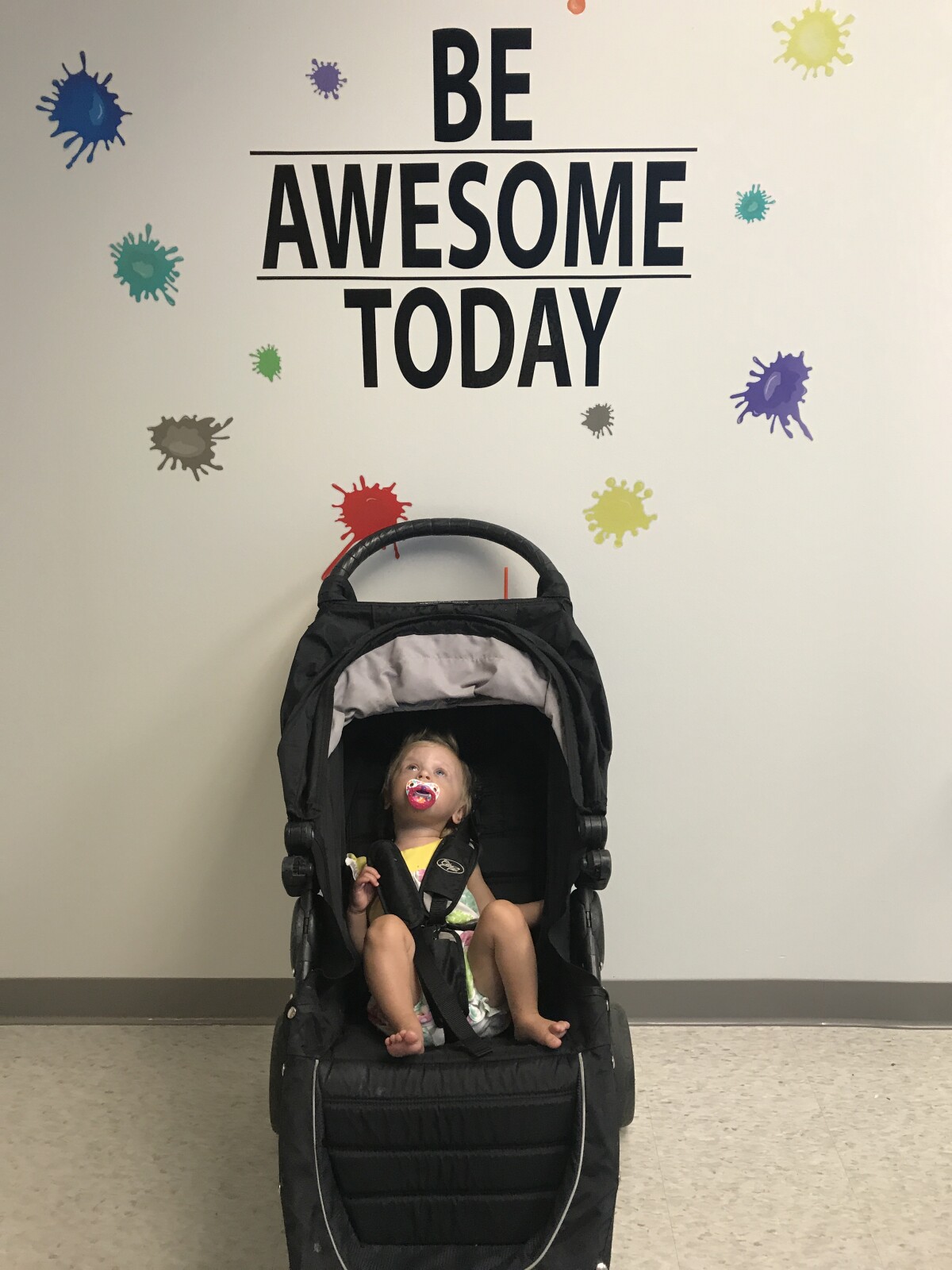 Well, I went down the rabbit hole. At around 15 months old, Elyssa still wasn't walking and I started getting that creeping feeling that alerts you as a mother when your child isn't meeting those ever so "in-your-face" milestones. I've never chalked up any delay to "well, she has Williams syndrome" so I won't expect that milestone to come at the typical time it should. The fact is, I do expect it to. Why should anyone that is differently-abled not have a high standard set for themselves? And, I do everything in my power to help make that happen. If we bring our "A" game and it still doesn't happen- then so be it. But in my eyes, I never have to wonder if there was something else I could have done to help her get there.
So I perused the web for therapies that were unique and centers that offered them. That is where I came across the Napa Center of Boston and the CME therapy they offer. They have intensive sessions which means the child goes to them for hours of therapy a day, five days a week, for three weeks. That is 45 hours of therapy in just under a month. That is more therapy than most kids get in a year. The research says that most children gain the same amount of progress equivalent to 6 to 12 months of regular therapies at home. I was sold. I messaged families that had been there, emailed the center, registered for a ton of "waitlisted" intensives, got insurance taken care of, evaluations faxed over, and waited to see if we were accepted.
As a few months went by, I decided to check-in with an email to see if anyone had canceled for any of the upcoming intensives. I figured since families fly in from all over the country to attend and with the country on lockdown due to the COVID pandemic, there was a possibility of a cancellation. Amazingly, the response I received was that there was an opening for the July 6th -July 24th session. We were lucky that we are in driving distance and that Lou and I are both off from work and could experience this together. Elliana is also off from school. How wonderful that we could make this work and have it be a lovely family trip. It fell into place for us.
Today was day 2 of the intensive. Lou and I will be switching off days going with Elyssa and the other takes Elliana to fun places. On the weekends we will do sightseeing as a family.
I want all you mamas out there to understand the underlying message here. Had I not done some further digging and sought this opportunity out, I would have never known about it and my daughter would have missed out. No one is going to make sure that you know about ALL of the amazing resources, therapies, and opportunities for your child EXCEPT you. If you want more for your child, go and get it. If you hit a roadblock, go around it. If you don't get the answer you want, ask someone else. Use your connections, ask questions, and model resilience for your child. Show up, stand up, and be their voice.
To learn about the NAPA Center and the reason it was founded read below. The type of therapy that I was first intrigued by is called CME which is outlined below and shown in the video. I will be sharing videos and posts of Elyssa's hard work throughout our journey over the course of the next three weeks. Please share this on all platforms so that other families can be made aware of these amazing programs. There are currently three NAPA centers in the US and one more opening in October. If you'd like further information please reach out. Thank you from my family to yours.
NAPA (Neurological and Physical Abilitation) Center was founded in 2008 by Lynette LaScala after spending two decades traveling around the world in search of the best therapies and treatments for her son Cody. Cody experienced a near-drowning accident on his first birthday, after which Lynette made it her life's mission to help him reach his full potential and instill hope. Her journeys around the world inspired her to make the best and most innovative therapies available under one roof.
Cuevas Medek Exercise is a technique developed by Ramón Cuevas in 1972 while he was working with several young children. The basic goal of CME is "to create a method of exercises that will provoke the automatic postural responses from the motor delayed children, in spite of their neurological damage and level of awareness."
During CME, the therapist physically manipulates the child to stretch out tight muscles and train the muscles in groups. These manipulations eventually allow the child to gain control over his or her trunk, which is necessary to perform basic gross motor activities such as sitting, standing, and walking. Sessions begin on a table. Then, if the child is able to stand with ankle support, the floor is used. Floor exercises involve seven pieces of equipment, which can be configured in various ways to challenge the child's sense of balance. Exercises are repeated until the reaction of the brain becomes automatic and the body reacts normally to situations required to keep its balance.